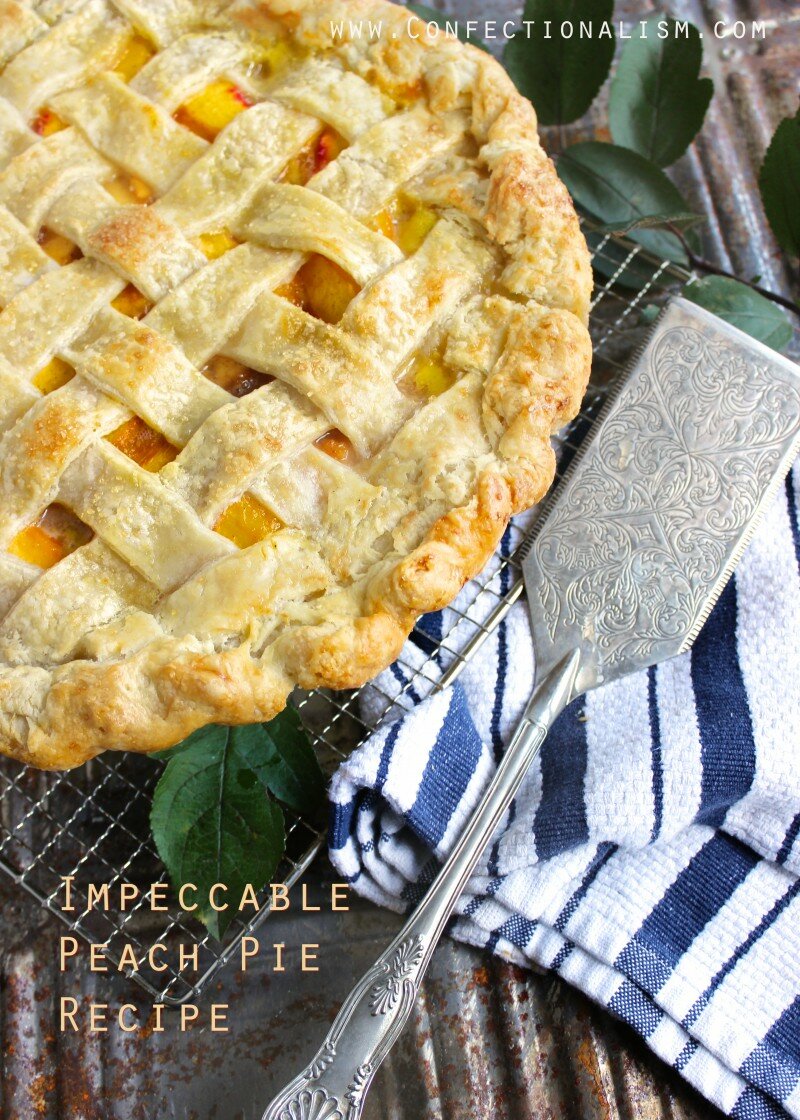 Pies, there is so much to be said about a great pie. The flakey dough, the flavorful fillings, the amazing artistry that can go into forming the most intricate crusts. I love pies and peach is a summer favorite of mine. The recipe I'll be sharing with you today can't be beat.
There are many things that go into making a great pie. One of the most important skills, I believe can be easily mastered, is Pate Brisee, or french pie dough. When done properly it is absolutely heavenly. Store bought crusts can be ok, but it takes so little effort to make when using a food processor, and it puts the store bought crusts to shame. If you have little to no experience making pie doughs I suggest checking out Martha Stewart's website for a tutorial on how to make a wonderful crust in your food processor. She has many videos on making Pate Brisee, and she's a pie genius. You can watch one of them here. I really miss the show. I was the dork that DVRed her show, because I loved all the genius her and her team endowed on us all.
Anyways.. when making the pie dough, chilling all the dough ingredients can help you get the right results, and be careful not to overwork the dough, otherwise it will become dense and not nearly as appetizing. I like to use half All Purpose Flour and half Cake Flour. The Cake flour has a lower gluten content, and this helps to create a much more tender crust and pastry.
In a few weeks I plan to do a video tutorial on Pie dough, and how to master it, so stay tuned…

I also like to cook off any bitter cornstarch flavors in my fillings. This helps maximize flavor profiles and eliminate any chance that bitter flavors from the cornstarch will be present. Cooking the filling mixture before pouring it onto the peaches also helps begin the thickening process as well, this way the filling thickens and sets up sooner rather than later, helping to keep from over-cooking all those wonderful peaches.

If you don't have an oven liner I'd suggest getting one, because they are wonderful, especially when making pies. Once in a while you will encounter a bunch of juices that might boil up and leak over the sides of your pie. The smoking that might begin is not so pleasant, and you DO NOT want to need to remove your pie before it's done- all just to clean up the mess that is smoking you out of your kitchen. The liner catches these juices to keep them from landing on the heating element, or charring to the bottom of your oven. Here is the one that I use:
If you don't have an oven liner, I'd suggest placing a foil lined baking sheet on the oven rack below your pie, just as a precaution to catch any juices that might decide to jump ship.
To sum things up this is an awesome recipe that is something simple, classic, flavor-filled,and pure perfection…. Impeccable..

Impeccable Peach Pie Recipe

Ingredients
1 lb butter (4 sticks), cubed and chilled
2½ cups AP flour
2½ cups Cake flour
2 tsp salt
1 Tbsp sugar
¾ cup ice water
7 cups peeled, pitted, and sliced peaches
¾ cup sugar
3 tbsp cornstarch
1 tsp cinnamon
¼ tsp ground cloves
½ tsp salt
¼ cup orange juice
1 tsp orange zest
¼ cup clover honey
1 tsp vanilla
1 Large egg yolk
1 tbsp water
turbinado sugar for sprinkling
Instructions
Using a food processor, pulse the 2½ cups Ap Flour, 2½ cups Cake flour, salt, and sugar- just to combine.
Add the cold butter to the food processor and pulse 5-10 times until it forms a crumbly, oatmeal like texture.
Pulse the processor while adding the very cold water to the chute of the processor, until the texture is still crumbly but when squeezed it holds together. This should take no longer than 15 to 20 seconds. Be sure not to over process the dough. It shouldn't come together in a ball, and bits of butter should be speckled through the dough.
Pour onto a surface covered in plastic wrap and separate in two.
Press and form into two discs and individually wrap well in plastic wrap. Refrigerate for at least one hour.
Place your prepared peach slices in a large bowl.
Whisk together the, corn starch, sugar, cinnamon, cloves, and salt in a medium saucepan.
Whisk in orange juice, orange zest, honey and vanilla. Begin heating on medium high heat and boil for 2 minutes. This process will help to cook off the bitter cornstarch flavor so that it is not present in your pie filling.
Once boiled pour this mixture over the peaches and toss to coat. Cover and set aside.
Roll out your pie dough ⅛ in thick, and line a 9-10 inch pie dish. Be sure to not let the pie dough get too warm while working with it. If the butter begins to melt, it will absorb into the flours and your crust won't have the tender and flaky end result that we are looking for. If it begins to get to warm, put it back in the refrigerator to chill for 20-30 min, and begin working again.
Once the pie dish is lined with dough, place in the refrigerator while you roll out the second disk for the top crust.
Roll out the second disk to ⅛-1/4 in thick, and cut into strips with a pastry cutter for a lattice top, or leave it in it''s solid state for a solid top crust.
Pour your peaches into the dough lined pie dish, and begin topping with lattice top, or solid crust. Cut off excess leaving ½ inch around edges for crimping. Crimp the edges, and place the pie in the freezer for 15-20 min. ( if using a solid top crust, and not a lattice top, be sure to score the top of the pie so that it can properly vent steam while baking.)
While the pie is chilling in the freezer, preheat your oven to 450 degrees F.
Whisk the egg yolk and water together in a small bowl, forming and egg wash.
When the oven is preheated, pull your chilled pie out of the freezer and brush with the egg wash, then sprinkle the top of the pie with the turbinado sugar.
Bake at 450 degrees F for 15 minutes, then reduce to 350 and bake for another 45 min-1 hour, until the filling is bubbling and the crust is a nice golden brown. If the edges begin to brown too much before the filling begins to bubble, cover with strips of foil to prevent over browning.
Let the pie cool to room temp, or slightly above before cutting and serving.

4